The Hull team currently provide a wide range of expert engineering services for Aerospace & Defence clients, supporting with everything from concept design to design for manufacture, along with build line and in-service support.
The team celebrated on Friday with an office party, welcoming team members past and present to celebrate and reminisce on the past two decades.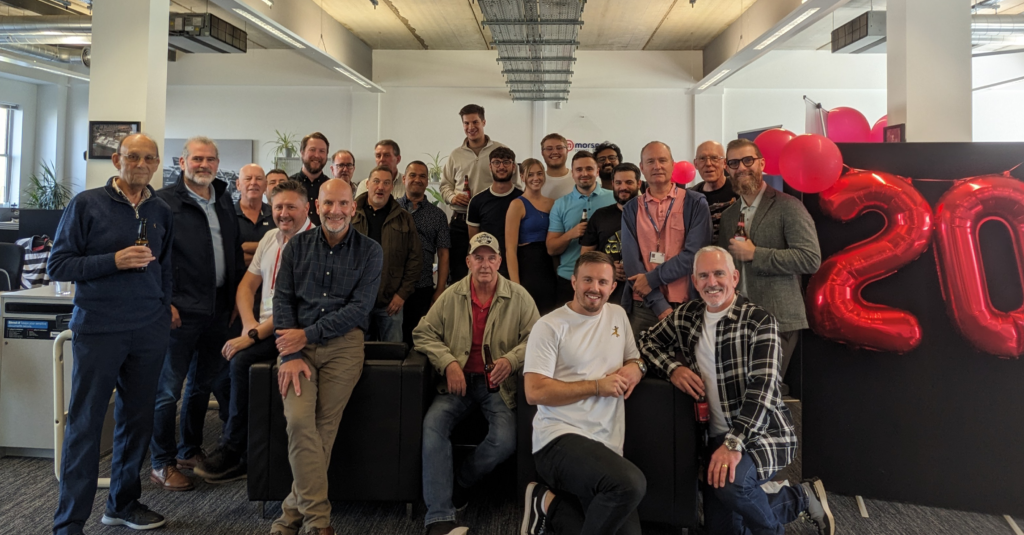 Whilst they were celebrating, we caught up with Brian and Vince who have been core members of the Morson Projects Hull team since its launch.
Brian Moore, Assistant Chief Designer, shared:
"The office has seen the delivery of some amazing projects over the years for clients such as BAE Systems, Leonardo, Raytheon, Bombardier, GKN, Icon Polymer, Magellan & O&H Vehicles, to name but a few, with many great engineers joining us for the journey at varying points in their careers.

"Predominantly delivering a broad scope of Structural Design work at present, we have delivered many multi-disciplined projects over the years, welcoming many colleagues in various engineering fields such as Planning, NC Programming, Tooling Design and Technical Publications to the team for various projects. We are also excited to be expanding our Hull portfolio beyond Aerospace & Defence,, as we begin to support clients within the Marine sector, namely submarines.

"It has been more than a privilege to work with so many wonderful highly skilled and dedicated people over the years, and is fantastic to see the office still thriving 20 years on. It is also heartening, and inspiring, to see the office being lifted by the energy from a new generation of younger engineers, joining the team, full of new ideas and enthusiasm.

"I look forward to enjoying working with the team to help drive the office forward, supporting all of the exciting future projects we have in the pipeline, for the next 20 years and beyond…!"
Vince Knapp, Product Lead, added:
"It has been great to be able to mark the 20 year anniversary by inviting all of our Hull staff and contractors past and present to join us for this celebration.

"For Brian and I as well, to have our sons as part of the team continuing the legacy of what we have all built together through a lot of hard work and dedication, is something special.

"Having worked for Morson Projects for over 20 years as a contractor and more recently a staff member I have been fortunate to work on some of the most exciting aerospace and marine projects there have been, long may it continue!"
Find out more about Brian & Vince's career journeys here >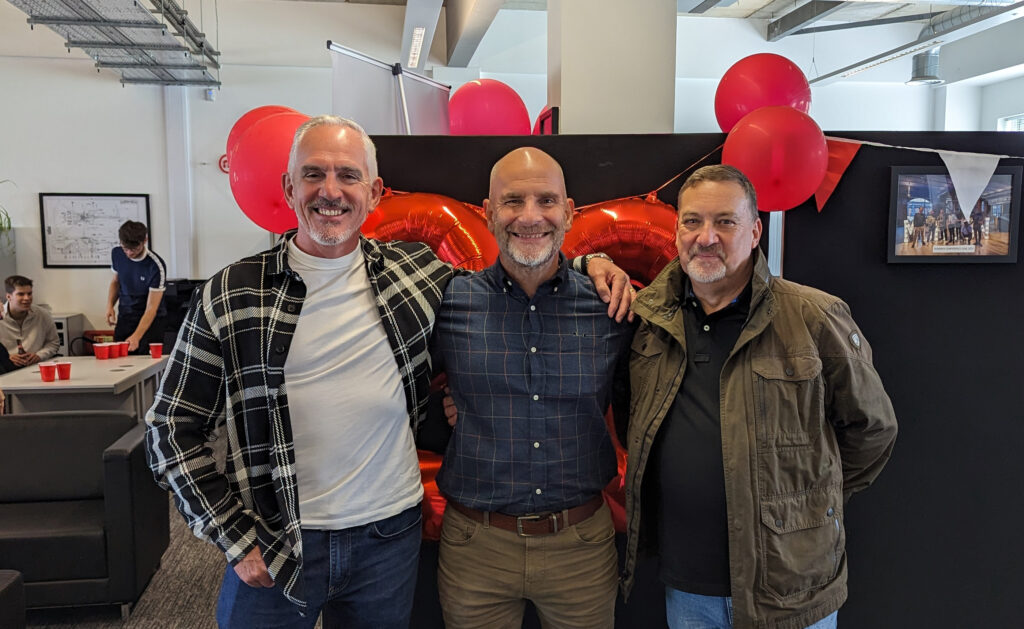 Image (Left to Right): Vince, Brian and Gary were all part of the first Morson Projects Hull Office
We also caught up with Gary Kipling, Senior Design Engineer, who first joined Morson Projects in 2000 amid his varied career in the industry:
"My career started at British Aerospace, Brough (Hull) in 1979 as a Technical Apprentice. After doing a four-year apprenticeship, I came out of my time in the Drawing Office as a Draughtsman. The initial work was on a drawing board working on Phantom and Buccaneer aircraft then moving onto the Anvil CAD system working on Hawk and T-45A.

"In 1989 I decided to leave Brough and headed over to Seattle as a contract Design Engineer, spending many years contracting either in the UK or various countries abroad which included Wichita, Montreal, Switzerland, Spain and Holland.

"I first worked for Morson Projects as a contractor in 2000 working on Nimrod then many times after that on various projects including Hawk, Harrier, T-45A, Typhoon, F35, F16 and Leonard helicopters.

"In April 2021, I decided that I would finally hang up my contracting boots and take a permanent position with Morson Projects. I am now based back in the Hull office, working on one of our top Aerospace & Defence programmes."
Find out more about our Hull team here >
---