Vertical Aerospace are the only British manufacturer of an electric Vertical Take-off and Landing (eVTOL) aircraft that in 2022 completed its first tethered hover in the UK – the VX4.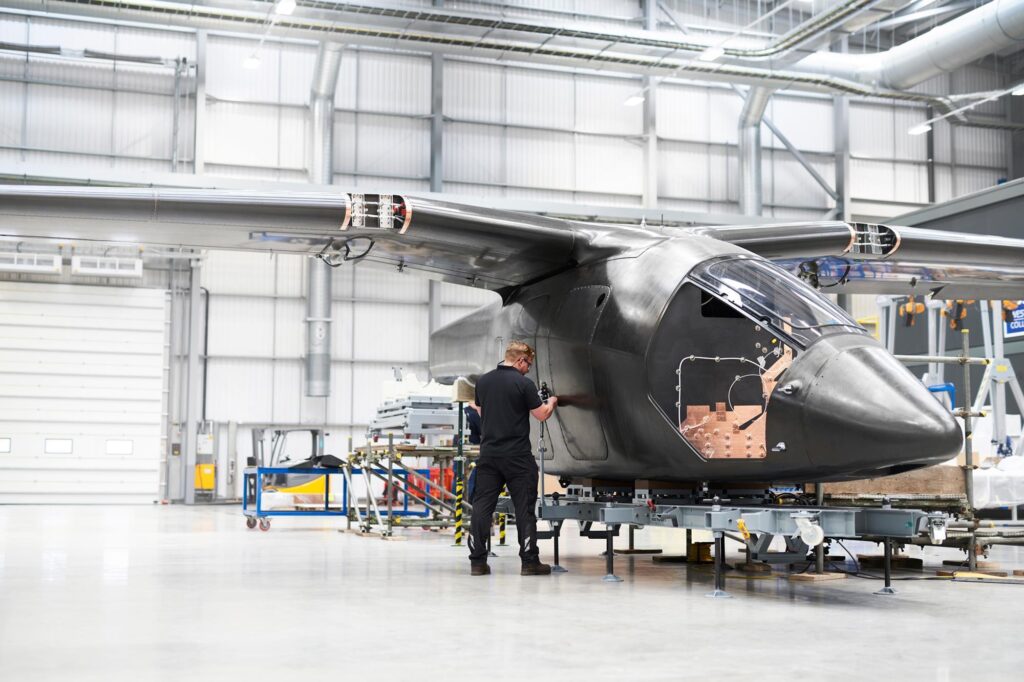 It is hoped the VX4 will be certified by the middle of the decade , at which time the aircraft is expected to open up advanced air mobility to a whole new range of passengers and transform how we travel.
The aircraft is projected to be capable of transporting a pilot and up to four passengers, traveling distances of up to 100 miles, and achieving top speeds of 200 miles per hour, while producing minimal noise and zero operating emissions.
Associate Director, James Tetley, who is responsible for the Jig & Tooling Department shared:
"We knew during our first meeting with the Vertical Aerospace team that this was a company and project we wanted to be involved with, what they have achieved is fantastic and demonstrates the strength of their expertise and the UK aerospace design and manufacturing sector.
"Our team have been working closely with the engineers from Vertical Aerospace to design and manufacture a suite of tools to facilitate the assembly of the aircraft to drawing.
"Locating and installing major components is always challenging but the experience our aircraft tooling team has combined with the product knowledge of the Vertical engineers has allowed us to deliver high quality and high function tooling on budget and on time.
"We are proud to have been supporting Vertical Aerospace on their journey so far and look forward to following the VX4's route to certification as it continues to progress successfully through an intensive test flight programme."
Paul Mackie, Senior Programme Manager and Technical Lead for the Assemblies and Business Operations Project, Vertical Aerospace, added:
"The support and expertise the Morson Projects team has brought to the creation of tooling, assembly and transportation equipment has been invaluable to the rapid development of the VX4 aircraft and the Vertical Aerospace mission as a whole.
"It is imperative that the aircraft is developed quickly but also with precision and safely during its build assembly and initial flight test campaign. The equipment developed in collaboration with the Morson Projects team will enable the aircraft to be accurately manufactured, assembled, disassembled, transported and reassembled during thus crucial phase.
"The rapid growth of the eVTOL market means that Vertical Aerospace needed support from a specialist provider for the design, development and manufacture of the equipment necessary to assemble and transport our VX4 aircraft. The engagement with Morson Projects was quick and efficient and continued through to successful delivery of the equipment pieces to meet our demanding programme schedule timeline.
"Collaborative working with Morson Projects was a professionally enriching experience for both parties. A close working, trust-based relationship was formed and it quickly became apparent that development of the assembly and tooling equipment required is a specialist activity which the team was well equipped to provide.
"This has been a successful working partnership between Morson Projects and Vertical Aerospace and has made a significant contribution to the rapid development and production of the VX4 aircraft."