The University's ethos is to engage with students to give them an opportunity to apply their learning in tangible ways. The Maker Space helps students to gain a deeper understanding of their study through iteration, testing and prototyping.
The Maker Space provides students with an exceptional facility not found anywhere else on campus where they can:
• Access powerful, industry standard machinery
• Develop technical competency in digital fabrication
• Apply engineering skills from textbook into real-world
We caught up with Dr Maria Stukoff, Director of the Morson Maker Space, to find out more about how the space has been used to support the Salford Racing team in the Institution of Mechanical Engineers (IMechE) Formula Student competition.
More about the Salford Racing Team
The Salford Racing team is a multi-disciplinary student society comprising of engineering, business, project management and media students. In a normal year the society has 25-30 members from a broad range of specialisms, providing both engineering knowledge and business expertise.
Together, the students work on designing and manufacturing a race car to compete in the IMechE Formula Student competition, Europe's most established student automotive event. The team are up against over 100 universities from around the globe, who meet at Silverstone once a year to pit their cars against one another.
Students design the car's chassis, suspension, drivetrain, and aerodynamic features while sticking to a rigid competition rule book. Cars which successfully pass the stringent scrutineering process go on to compete in a number of dynamic events, including an auto-cross style endurance marathon and sprints.
The competition provides an ideal opportunity for students to demonstrate their engineering knowledge and develop their skills to deliver a complex and integrated product in the demanding environment of a motorsport competition.
Supporting Student Success
The Morson Maker Space has supported the Salford Racing team over the last 4 years, collaborating with the students to introduce concepts of design for manufacturing to speed up turnaround of parts and make the machining process cheaper and easier. Machining parts in-house at the Maker Space ensures that students continually learn new industry relevant skills by getting immediate feedback on their designs.
Aidan Dunbar, Maker Space Lead Technician has taken on an additional role as Faculty Advisor providing technical, administrative as well as coaching support to the team. He said:
"This summer we ran three days of Formula Student specific workshop sessions offering input from project management specialists, university technicians, machinists, and management staff specifically to boost skills and promote a holistic approach to the design and engineering challenge. One outcome of these workshops is that four students are now fully certified in the independent use of the Maker Space's powerful waterjet cutter."
How the Morson Group are contributing
The University's longstanding relationship with the Morson Group has enabled Salford Racing to secure sponsorship, advice, resources and equipment from engineers at Morson Projects.
This unique collaboration allows the students to work closely with industry experts to help innovate and test ideas, with an opportunity for students to work on real industry briefs.
Oliver Kanjoo-Parsons, Team President 2021-2022, shared:
"As a relatively new team, Salford Racing feel privileged to have the support of Morson Group. Their sponsorship has allowed the team to improve its position in the Formula Student competition year-on-year and gives the opportunity for students to develop our professional experience and thus creating more competent engineers."
Morson Engine Room: Machine Tools
Like all other students at the University, the team have free access to the broad technical capabilities and machinery at the Morson Maker Space.
The team have 3D printed parts of the steering assembly from carbon-fibre reinforced Nylon, waterjet countless sheets of steel and aluminium for both structural and aesthetic parts. A number of key parts were machined on the Maker Space's 5-axis CNC mill, meaning parts can be turned around more quickly and with fewer setups.
Support of the Salford Racing Team wouldn't have been possible without the heavy duty, industry grade machinery that sits in the Morson Engine Room.
Aidan Dunbar, Maker Space Lead Technician, shared:
"Having access to such a wide range of manufacturing technologies at the Morson Maker Space has really helped the Salford Racing team. Students gain valuable experience designing their parts for manufacture, ensuring their car can be made as quickly and as cost effectively as possible."

"Our Haas UMC-500 5-axis CNC mill gives students the opportunity to create designs that would otherwise be cost prohibitive or time consuming to produce on a traditional 3-axis machine, especially if it was sent to an external contract manufacturer. Reducing the number of setups required to complete parts means that manufacturing is much more straightforward. We are excited to incorporate training for this machine ready for the next competition."
Dr Maria Stukoff added:

"Simply designing and specifying parts for manufacture teaches students a lot about working in the real world – actually getting hands on during the manufacturing process, receiving one-to-one feedback from machinists and technicians, and constructing the final assembly really drives home the effect design decisions have on production efficiency and design ease. The students are learning by making the mistakes that would normally happen during the first few years of their career and will graduate as more effective engineers.
Student Profile
We caught up with Corin Williams, who studied Mechanical Engineering at the University of Salford between 2016 – 2020.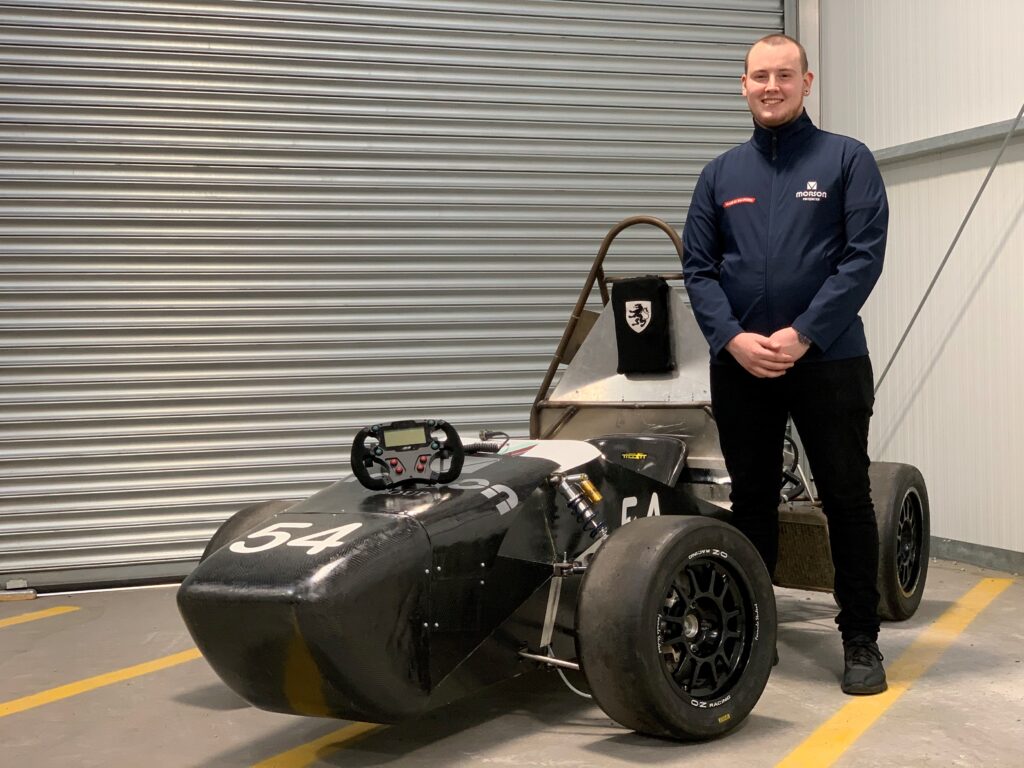 Corin worked as the Salford Racing Director for the 2019-2020 competition. Since graduating from his BEng (Hons) in Mechanical Engineering, Corin found immediate employment as Head Design Engineer at SW Motorsports and now acts as an 'Alumni Advisor' sharing his industry insights and valuable design skills back into Salford Racing.
Corin shared:
"I graduated last summer and I'm now working in a dream role as head design engineer for SW Motorsports, one of the UK's leading roll cage and safety device manufacturers. I know for a fact that I wouldn't have been able to get this job without the help and guidance of staff and industry partners at the University of Salford.

"During my time at university, I had the chance to work closely with the Morson Maker Space, which is an amazing facility that provides industry-standard facilities across 3D printing, computer-aided manufacturing (CAM) and computer-aided design (CAD). Students can use the facilities, access expert mentoring and work alongside the team on live briefs and projects with industry.

"Being able to work in the Maker Space and be a part of Salford Racing really did set me up for life after university. Not only did I benefit from dedicated support from industry professionals, but I was able to practice honing my technical skills using the state-of-the-art equipment. This was alongside my day-to-day studies which gave me the academic know how across a curriculum that has been designed with students' future careers in mind."
---
Find out more about the Maker Space here:
https://www.salford.ac.uk/our-facilities/maker-space