Tom is a high achiever with excellent grades, good behaviour and was chosen to be one of his school's computer ambassadors, he also has autism. With a keen interest in computer science, engineering and design, Morson Projects seemed the perfect place to spend a day.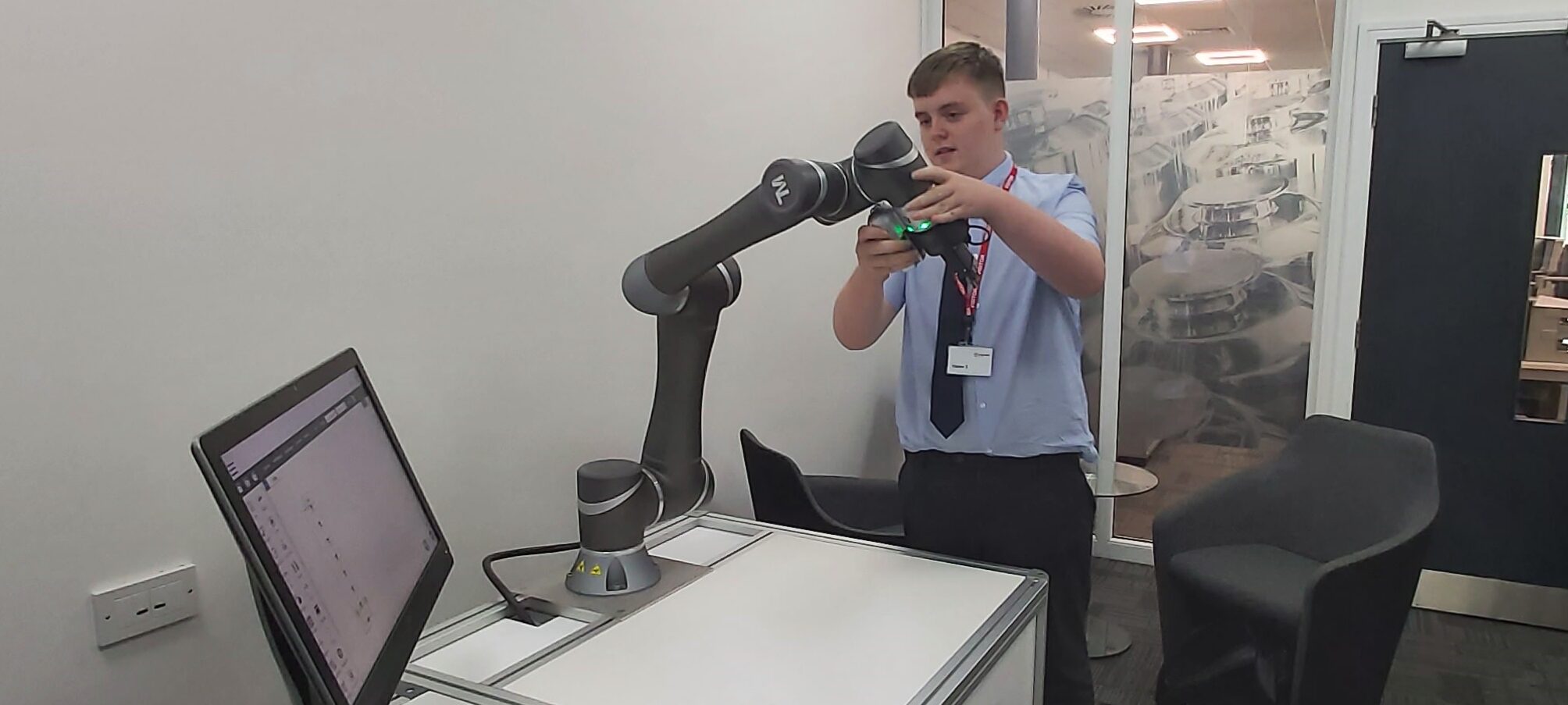 On the morning of his work experience, Tom met with Gareth Clarke, one of the engineers from our Jig & Tool team and practiced 3D modelling. In the afternoon, he spent time looking at our Cobot (collaborative robot) in the demo room, discussing 3D printers with BD Manager, Simon Plimbley as well chatting about his interests with our Managing Director, Chris Burke.
Tom explained to Simon and Chris how he designs STL files for his own 3D printer to make rockets, attaching rocket motors to them as well as onboard processor to record the flight data. Doing so means that when the rocket reaches maximum altitude a parachute deploys to have the rocket return safely so Tom can record the flight data. Chris was impressed by Tom's knowledge and expertise in Engineering, and the two further discussed CAD packages for STL designs, rocket motors and on board processors for flight data.
BD Manager, Simon Plimbley shared:
"It was great to welcome Tom to the office and introduce him to some of our tech. It is clear Tom has a real interest in engineering and he really lit up talking about his passion – rockets!

"Myself and the team have been impressed by Tom's knowledge and enthusiasm for engineering and are keen to invite him back for more work experience.

"Tom has already expressed interest in coming back for Wellacre's weeklong work experience program next year. As such, plans are being discussed to help sponsor Tom to develop and print a rocket to be launched next year."
Emma Barton, Tom's mum expressed her thanks to the team in a message to Simon:
"Tom absolutely LOVED his work experience with Morson Projects, he's not stopped speaking about his day with you all and how fantastic the robot was.

"He's chuffed to pieces to be asked back for the week next year, it can't come fast enough for him.

"I'm really happy he's found a company that share the same interests as he does and also understand the challenges he faces with autism and have made this experience a positive one for him, I'm truly grateful."
Some staff at Morson Projects are neurodivergent or have neurodivergent children and with the company's interest in working with the local community, engaging with people like Tom, we hope to help close the gap between employment, disabilities and local communities.